By WALTER ANG
February 22, 2017
Inquirer.net
http://usa.inquirer.net/1766/fil-canadian-family-secrets-lies-go-stage-anak
Isabel Kanaan (left) and Belinda Rona Corpuz
play daughter and mother in "Anak.
Photo by Bo Fajardo
TORONTO - Carlos Bulosan Theatre is staging "Anak," a play about a Filipino-Canadian family's hopes, dreams, secrets, and lies.
CBT artistic director Leon Aureus is directing. He describes the play as "a touching drama about a family facing unexpected challenges that uncover deep-seated resentment and tensions."
"Anak" is the Filipino gender-neutral word for "offspring/son/daughter." In the play, two sisters end up in different economic circumstances. One has a daughter who is facing a life detour and the other has a son with a secret that threatens to tear the family apart.
Written and to be performed by the CBT Collective, the group's resident pool of artists: Ann Paula Bautista, Belinda Corpuz, Isabel Kanaan, Richard Mojica, Alia Rasul, and Anthony Raymond Yu.
Personal stories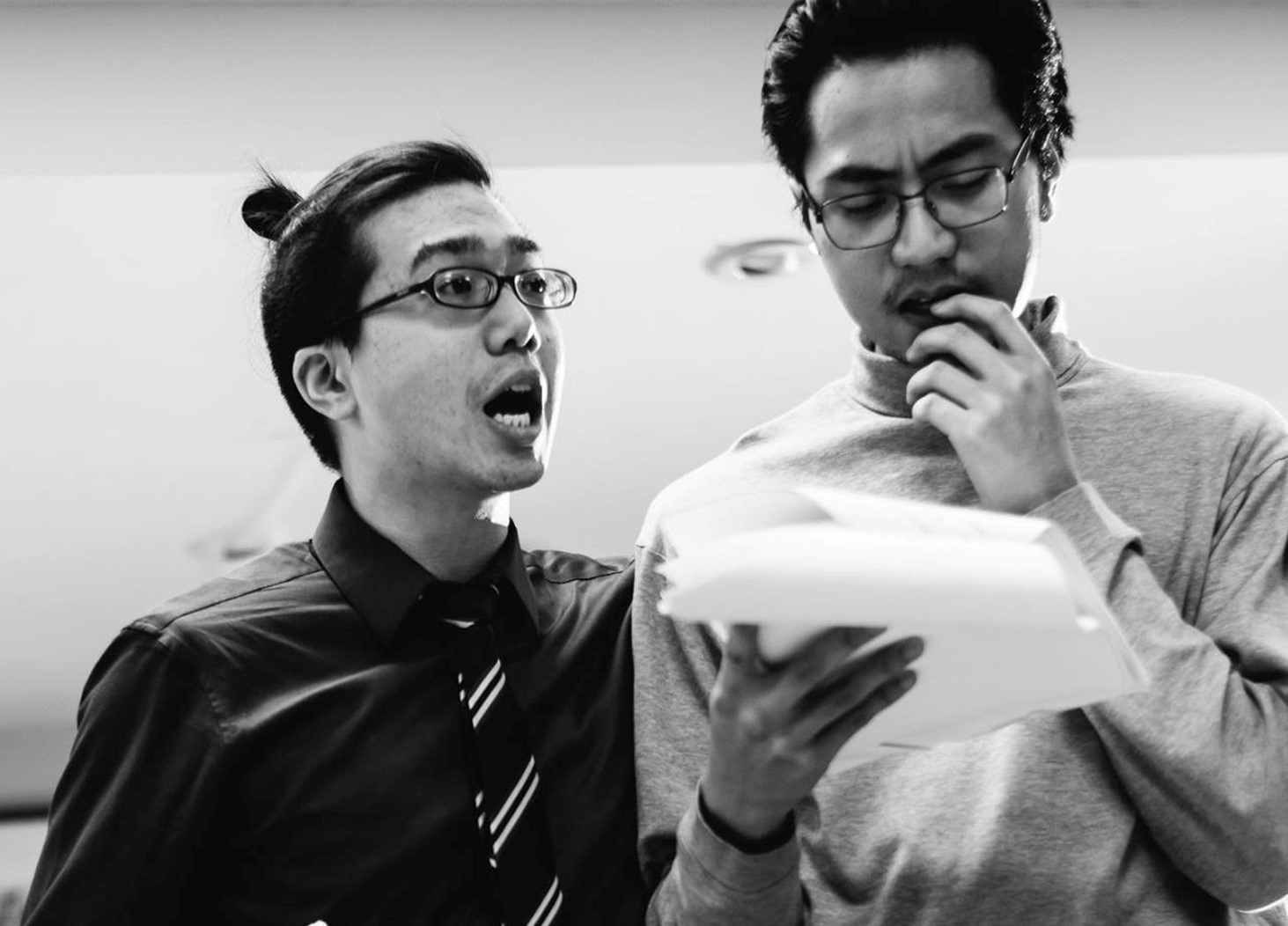 Anthony Raymond Yu (left) and Richard Mojica
play son and father.
Photo by Bo Fajardo
The play was crafted based on personal experiences of the actors who will perform the play.
CBT holds annual workshops as part of its artist development programming and this particular play has its roots in a workshop held two years ago.
"During our sessions, the participants shared stories of their own families and their lives growing up in the Philippines and in Canada," says Aureus, who guided the group into weaving their separate accounts into a cohesive whole.
When the workshop ended, the seeds for a new play and a new generation of the CBT Collective emerged. "They were committed to meeting regularly to workshop and develop this new play."
Well-received
Leon Aureus directs.
Photo by Bo Fajardo
Their efforts resulted in a staged reading of the play last year. "It was incredibly received. The audiences connected instantly with characters that reminded them of their own family members or even themselves," he says.
"As soon as the reading was completed, people were already asking when the performance dates were for the full production."
Costume design is by Richard Mojica, set design by Jackie Chau, lighting design by John Cabanela, sound design by Belinda Corpuz, projection design by Kevin Feliciano.
Aureus says CBT is continually building an audience and community for Filipino-Canadian theater in Toronto, which is why this particular production will be staged in the Scarborough district, which has a large Filipino population.
"We're also offering a special sliding-scale pricing structure to encourage Filipinos who aren't typically used to going to theater to attend."
CBT has several projects lined up for the year though funding is a constant challenge. Support through volunteering (onstage, backstage or at their office) is always welcome as are tax-deductible donations or sponsorships.
"Anak" runs Mar. 3-12 at St. Paul's United Church, 200 McIntosh St., Scarborough, Ontario. Tickets: cbtpresentsanak.eventbrite.com. Details: CarlosBulosan.com or Fb.com/CarlosBulosanTheatre.
READ previous coverage of Carlos Bulosan Theatre here.